Shamsiyyah islamiyyah islamic centre - Johannesburg
Sunday, 9 July 2017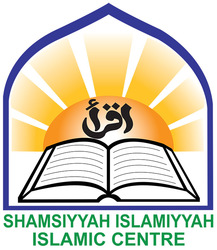 Item details
City:
Johannesburg, Gauteng
Contacts

Ml. Saeed Muhammad

0780917254
Item description
Shamsiyyah islamiyyah islamic centre is a non-profit organization working for underprivileged children – orphaned, abandoned, destitute and other vulnerable groups. Our mission is to change lives of such children – by providing them with long-term care. This includes basic needs, education and healthcare, and skills necessary to transform them into responsible citizens. In addition, we also sponsor education of more than 200 poor children in collaboration with corporate and non-profit partners. Shamsiyyah islamiyyah islamic centre is a non-profit organization established in 2006 but officially registered in 2015 to satisfy the needs of the growing islamic communities in southern africa with regards to education, counseling, welfare assistance (orphans, widows, food hampers and the poor) and social development. Our organization is committed to developing community values and promoting unity, integrity and islamic knowledge to everyone regardless of their race, gender, culture or religion. We aim to be a source of inspiration and influence that guides into righteousness, good morals and attaining the pleasure of allah. Who we are
we believe everyone has a right to live free of poverty in a secure and more equitable world where they are able to realize their potential. Inspired by our islamic ethos, we are open-minded and pluralistic. We believe that all people, regardless of race or religion should have access to clean to education, to healthcare, to earn a sustainable livelihood and to have access to basic social services. Our core activities. Children afternoon madrassah, day care and pre-school, adult classes, teaching of the qur an, feeding schemes, ramadhan programs, welfare programs, food hampers, donations to widows, orphans , teaching and propagating islam. Primary activities:
orphan assistance: we help allocate orphans to homes, schools (provide fees) and aid them with sufficient basic needs so that they can feel dignified and become useful members of the community. Education support: our organization caters for the education and enrichment of knowledge to students, adults and the elderly. This includes basic education and islamic knowledge (deen. ) we have a preschool whereby we take children from a younger age and teach them to be better people in the future. Madrassah: the madrassah serves to impart islamic knowledge to everybody. This knowledge entails qur'an reading and understanding, etiquettes of the prophet muhammad p. B. U. H and the shari'ah way of life. This is available to schoolchildren, adult women and man for whom we have separate classes scheduled. Day care and pre – school: shamsiyyah aims to empower children with basics and fundamentals of islam and to inspire interest on understanding of literacy, numeracy and like skills to them in early age
social welfare: this program is involved in collecting and distributing welfare benefits such as food hampers, school fees assistance, zakah collection and distribution, lillah for poverty alleviation, donations, ramadan packages, eid assistance etc. Propagation of islam: the aim of our organization is to spread the message of islam to the land of south africa and beyond. In all our efforts we have asked ourselves: "how can this be to the benefit of the nation of islam? " thus we have been able to expand from johannesburg cbd to katlehong township to mpumalanga province and we hope to expand further.