KitchenAid Artisan Stand Mixer - Black Storm NEW - Johannesburg
Wednesday, 9 March 2016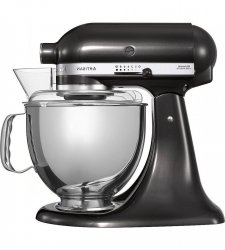 Item details
City:
Johannesburg, Gauteng
Contacts

kelly
Item description
Product information
Indulge your culinary creativity and bake like a true professional with the KitchenAid Artisan stand mixer, with its powerful motor and sturdy design. An appealing exterior combined with high-quality craftsmanship make this the ultimate cooking companion. Full metal construction adds to the high-gloss look of this appliance, while ensuring a stable and robust mixer. Choose from a range of appealing colours to perfectly match your personality.

Wire whisk
Made from stainless steel with an aluminium head, this 6 wire whisk is perfect for gently folding air into eggs and egg whites, whipping light, fluffy cream or making dips and sauces.

Dough hook
Let the dough hook do all of the hard work for you when mixing and kneading the perfect yeast dough for bread, pizza and pasta. This piece is made from aluminium with a robust non-stick nylon coating, which makes it easier to work with. It is also dishwasher-safe to make cleaning easy and efficient.

Artisan® Flat Beater
An ideal tool for cake mixtures and frostings, or even mashed potatoes for your Sunday roast. Made from aluminium with a robust non-stock nylon coating so mixtures don't stick. It can also be put in the dishwasher for easy and hygienic cleaning.

4.83L Artisan® Bowl
A large bowl is crucial for most baking recipes, it makes working with the ingredients easier and causes less mess. Made from easy to clean stainless steel for a sleek finish, with an ergonomic handle to make baking easier and more enjoyable.

Pouring shield
Not only does this clever shield let you add ingredients to your bowl while mixing, it also prevents splashing. Made out of robust and transparent Lexan, it also gives you full view of your ingredients as you work.

300 watt motor
5 quart bowl with ergonomic hand pouring shield
Tilt back mixer head design
Smooth rounded design
Direct drive motor
Single attachment hub
Full metal construction
Bowl with ergonomic handle
Large capacity bowl.