Tender touch caregivers 0833595279 - Johannesburg
Saturday, 1 February 2020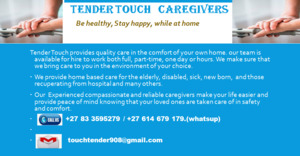 Item details
City:
Johannesburg, Gauteng
Contacts

Tender Touchcaregivers

0833595279
Item description
Our team of caregivers provides good and loving care to
your loved one. we look after the Elderly, Sick, Newborns,
disabled, and those recuperating from hosiplal and others.
we look after them in the comfort of their home.its our pride to see your loved one Healty, and happy.
some of the duties we do include: health monitoring, fixing doctors appointments, mobility assistance
cooking, feeding, bathing and gooming, taking them to the
toilet, wiping, exercise medication taking,
and others.
contact us on 0833595279 or 0614679179 watsup.