Refurbished Fokrlifts - Johannesburg
Wednesday, 12 June 2019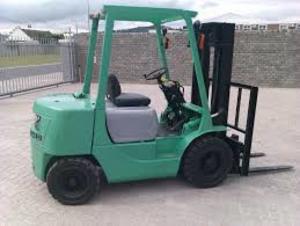 Item details
City:
Johannesburg, Gauteng
Contacts

Elsa

0792094680
Item description
Refurbished: Mitsubishi FG30, 3 ton petrol, Nissan engine.
Mast: 3 stage with side shift
Tyres: Solid brand new
Forks: 1070mm

Please Note:
This forklift comes with a standard 3 month warranty.
These units still will be delivered load tested and certified.
Goods remain property of A5Forklift (Pty) Ltd until fully paid for.
Deposit: 50% deposit required - 10 days delivery from order
15% handling fee on all returns.