For all your building construction and automation needs - Johannesburg
Monday, 24 April 2017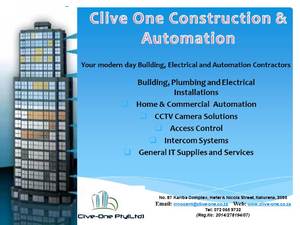 Item details
City:
Johannesburg, Gauteng
Contacts

INNOCENT NTAMBO

072 065 9732
Item description
Clive One is a reputable construction and automation company based in the Gauteng area that offers all services relating to new buildings and major renovations, including:
Earthworks, Planning, Building, Plumbing, Electrical, Automation, Project management, Costing, and so much more. 
 
We specialise in the planning and building of residential and commercial properties. We even go a step further to install all required security and operational management systems (Home and Commercial Automation projects). We pride ourselves in excellent workmanship and service. We have a staff of over 50 permanent and temporary employees.
 
We strive to meet our client's requirements in the most cost effective practical manner, combining years of experience and modern technology to provide the design and management of prompt construction and installation of requisite automation solutions.
 
Through our professionalism, communication, quality control, time management and ethical conduct, we will ensure that our clients receive exceptional service.
 
We will come out and see you and provide you with a professional quotation no matter how big or small the project.