Midwest Diesel & Turbo - Johannesburg
Monday, 17 October 2016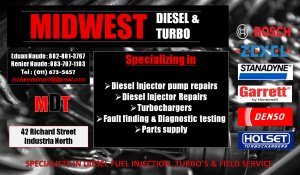 Item details
City:
Johannesburg, Gauteng
Contacts

Renier

0837071103
Item description
We repair most type dieselpumps and injectors on passanger vehicles, trucks generators and eartmoving equipment.

Bosch A; P; MW type pumps for:
ADE- 314 / 364 / 352N &T / 366N&T / 366Ti
ADE – 407N / 407T &TI / 447N / 447T&TI
ADE – 422N / 422T&TI / 442N / 442T&TI / 443N / 443T&TI

Bosch VE-Type pumps 4 & 6 Cylinder engines:
Land Rover Tdi 200 and 300
Land Rover Freelander / Discovery- Electronic positioner
Mercedes Benz Sprinter 412d- 5 Cylinder Electronic positioner
MAN 4 & 6 cylinder to fit to CLA and L2000 series Truck and Bus engine
Iveco Turbo Daily engine

Bosch Electronic VP29 / VP44 pumps:
VP44: MAN M2000 LE280 Truck Range.
VP44: Isuzu 3L- KB300 Bakkie
VP44: Nissan 3L ZD30 Bakkie
VP44: BMW 320D Pre-Facelift
VP29: New Holland TM190 Tractor Engine
VP29: Cummins engine.

Denso Pumps:
VE4 Type pumps for most Toyota Bakkie and Fork Truck engines.
Denso ECD V4 Pumps to fit to Toyota KZTE Bakkie and Prado and 5LE Engines.
Denso ECD V5 pumps to fit to Opel Corsa 1.7 Tdci Bakkie and Car engine
Denso ECD V3 Pump to fit to Land Cruiser 120 series 6cyl engine.
Toyota Dyna W04D Engine

Zexel Pumps:
Nissan 2.5 & 2.7 Bakkie engines
Mitsubishi Colt & Pajero 2.5 / 2.8 Tdi Engines
Ford & Mazda 2.5 WL Bakkie engines
Isuzu 2.2 / 2.5 & 2.8Turbo Bakkie engines
Isuzu 4HF1 Truck engine
Nissan UD and Cabstar Truck Range
Nissan UD 60/80/ 100 Euro 4 engine TICS pumps
Hino 500- J08 engine TICS Pumps
Hino Provia E13C Engine.