Miniature Tiny Yorkshire Terrier Yorkie Puppies - Johannesburg
Monday, 1 February 2016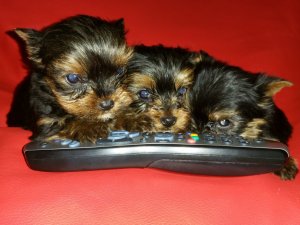 Item details
City:
Johannesburg, Gauteng
Contacts

paulette
Item description

I have puppies boys and girls, that have been brought up in a family environment. We are well socialised with other household pets and and young children. Also been vet checked and flea, wormed by drontal and vaccination.

Being brought up in a family home theses puppies are used to the sights and sounds of a very busy house hold. Puppies have been handled on a regular basis by my young children. Born on the :27-Oct-15 (13 weeks old)



Both parents on site for you to meet.They are my loving pets.I breed on occasion for QUALITY NOT QUANTITY

Each puppy has been on a 3 day course of panicur puppy worming treatment every 2 weeks since birth as well as being flea treated with front line. They have passed a full health examination by the vet and have also received their first vaccination. Puppies parents are pedigree registered miniature type Yorkshire terriers this means puppies will be very small when fully grown.

Pup has been temperament tested and will adapt to any home but I will be selective in my choice of home.Please Realize That Many Hours Of Labour(a Labour Of Love) Go Into Keeping These Tiny Babies Alive After They Are Whelped(born)They are born at mere onces.I must take time off work to ensure they are nursing properly...Many sleepless nights for weeks on end.Extra supplementation is required.The temperature must be kept at specific and constant level.Sometimes I cannot leave the house for days because I am so guarded as to their care and survival.It is a very exhausting process so I do not do it often.
Pups this tiny do not come along everyday.

full copies of both parents pedigree certificates and as much Help and after care advice if needed to arrange a viewing or for more inquires please contact me via cell or Email.