Fresh Alfalfa Hay /Alfalfa Hay Bales - Johannesburg
Wednesday, 25 September 2019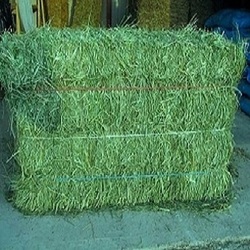 Item details
City:
Johannesburg, Gauteng
Contacts

Judith

0836765939
Item description
High Quality Animal Feed Alfalfa Hay From South Africa
100% Alfalfa Hay. Preservative and additive free. Loose hay contains stems, leaves, and limited seed heads.

Alfalfa Hay is a high-fiber legume forage hay that is sometimes called the "Queen of Forages". It differs from grass hays such as timothy, orchard grass and brome in the leaf, stem, and root structure. Alfalfa Hay is legume hay and the protein, calcium and energy content are higher than in grass hay.

Alfalfa Hay is an outstanding feed for young animals. It contains more crude protein, digestible energy, and calcium levels than any other forage. In addition, it has the fiber content needed for normal digestive functioning. Alfalfa provides the essential calcium necessary for growing bones. Alfalfa is also a source of important minerals, including phosphorus, potassium, magnesium, sulfur, iron, zinc and selenium.

Product Feature
Timothy hay

Crude Protein - Min 8%

Crude Fat - Min 1.5%

Crude Fiber - Max 35%

Moisture - Max 12%



Alfalfa hay

Crude Protein - Min 19.5%

Crude Fat - Min 1.5%

Crude Fiber - Max 30%

Moisture - Max 12%
Product Specification / Models
Color: Green

-Type: Premium Grade Hay

-20-25kg

-Single or double compressed bales

-2 tie or 3 tie.

-Moisture: ~10%

-Admixture:~1%-2%

-Protein:~16% min

-Acid Detergent Fiber (ADF): ~25-30%

-Natural Detergent Fiber (NDF): ~30-36

-Relative Feed Value (RFV): ~150-175C
Application / Models
Cattle, Chicken, Dog, Fish, Horse, Pig etc

Other Information
Packing,

We packed 40 bales of 50 lbs per Ton and 20 bales of 100 lbs per ton.

Note, We also pack as requested by our customers.