Skytrax Payroll Services - Outsource Payroll and HR Services - Johannesburg
Wednesday, 1 May 2019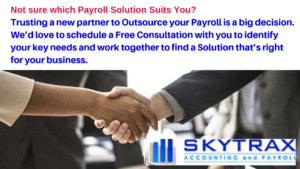 Item details
City:
Johannesburg, Gauteng
Contacts

Paul

066 234 3768
Item description
We'll Handle Your Payroll, You Focus On Your Business
Skytrax offers expert Payroll & HR Services to your business. Payroll can be a major headache for any business, big or small. Outsourcing your Payroll to Skytrax provides a number of benefits to all kinds of businesses.
Payroll is one of those processes that are essential, but not critical to sales and business growth. This is why Payroll can feel like a drain on work hours and resources – resources that could better spent in making money. Payroll is complex and pay runs need to be made on a regular basis, so this function doesn't just go away once it's done. By Outsourcing your Payroll, you can alleviate those burdens and channel more of your time, energy and resources into your core business functions while reducing costs in the long time.
The cost savings of Payroll & HR Outsourcing are proving highly beneficial. In the current economic climate, businesses are looking for more ways to keep costs down, improve their efficiency, and gain a competitive advantage.
Outsourcing your payroll also gives you access to Payroll knowledge and processes that you don't have internally. This means that you can rest assured that your Payroll is securely and accurately taken care of every month. So as well as saving money on setting up Payroll internally, you avoid costly Payroll errors too.
In an ever-changing environment where labour laws and SARS requirements are continuously being updated and adjusted, it is important for businesses to partner with someone who possesses professional knowledge on the matter and stays abreast of all developments. At Skytrax Payroll, that's exactly what you can expect. We provide complete and up to date legal compliance with all aspects of your Payroll.
Skytrax Payroll Services provides a comprehensive Outsourced Payroll & HR Solution, at alarmingly affordable rates. Our aim is to streamline your Payroll process, and at the same time, cut costs.


Duties:
Processing of monthly salaries and wages for weekly and fortnightly employees including preparation of payslips
Administration of leave
Processing of overtime, loans, bonus schedules, advances, travel claims, retrenchments and directors fees
Processing of and administering of changes (such as banking details) in respect of individual employees
Salary structuring and advisory services
Preparation and completion of the following monthly documents and reports:
Payslips
Calculation of EMP 201 declaration (PAYE, UIF and SDL) submission via E-Filing
UIF return to the Department of Labour
Third party payment reports ( Pension, Medical Aid, Garnishees etc)
Net pay reports
Gross pay reports
Costing reports
Leave days listing report
General Ledger report
Reconciliation of Biometric clocking system to Payroll report
Preparation and submission of the following yearly documents:
Preparation of IRP5 and IT3 tax certificates
Preparation and submission of EMP501 reconciliation (Bi-annual and Annual) via Easyfile.
Employment Equity Returns.

Please contact us on 066 234 3768 or info@skytraxaccounting.co.za.