Private Tuition & Homeschooling - Johannesburg
Friday, 9 November 2018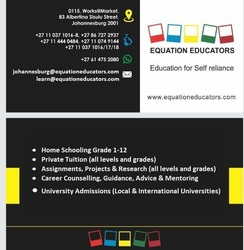 Item details
City:
Johannesburg, Gauteng
Contacts

Equation Educators

+27110371017
Item description
EQUATION EDUCATORS is GAUTENG'S leading and largest Co-educational institution with over 1509 registered member educators. We have designed a range of offerings to meet the needs of students of all levels, from all walks of life, and in a place where they are most comfortable - at home!
OUR SERVICES :
•HOMESCHOOLING: Grade 1-12 (Learning Centre/Home-Call Option Available)
•PRIVATE TUITION (all levels and grades)
•ASSIGNMENTS, PROJECTS & RESEARCH Writing (all levels and grades)
•AFTER SCHOOL CLASSES/EDU-CARE CLINIC (for NGO's/NPO's, Private/Public Institutions, etc.)
•CAREER COUNSELING, GUIDANCE, ADVICE & MENTORING
•UNIVERSITY ADMISSIONS (local & international universities)

For more info on who we are and what we do, please visit our website - www.equationeducators.com - alternatively, contact us directly.
Contact Equation Educators Training and Education Consulting -
Tel: 011 037 1016/17/18
WhatsApp: 061 475 2080
Email: learn@equationeducators.com / johannesburg@equationeducators.com
NB: Get access to over 10,000 educators using your location. Download the Equation Educators app from IOS and ANDROID. Available from April 1, 2018.