Hoogland Natural Mineral Water - Johannesburg
Tuesday, 1 August 2017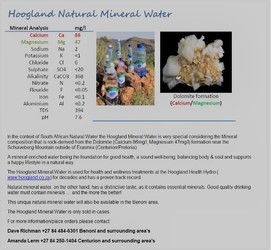 Item details
City:
Johannesburg, Gauteng
Contacts

amanda lerm

27842501404
Item description
In the context of South African Natural Water the Hoogland Mineral Water is very special considering the Mineral composition that is rock-derived from the Dolomite (Calcium 86mg/l, Magnesium 47mg/l) formation near the Schurveberg Mountain outside of Erasmia (Centurion/Pretoria).
A mineral enriched water being the foundation for good health, a sound well-being, balancing body & soul and supports a happy lifestyle in a natural way.
The Hoogland Mineral Water is used for health and wellness treatments at the Hoogland Health Hydro (www.hoogland.co.za) for decades and has a proven track record.