Home Raised KUSA English Bulldog - Johannesburg
Saturday, 11 January 2014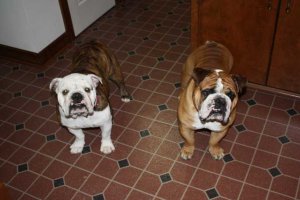 Item details
City:
Johannesburg, Gauteng
Contacts

robert kraak
Item description

Registered English Bulldog puppies for sale. Born November 21st. Ready for pick up January 13th. Fawn and Red Brindle markings. Parents have wonderful dispositions. All vacinations and worming has been kept current.Asking R2000

Health Purchase agreement.
The puppy you select is guaranteed to be
healthy at the time of purchase. In order to keep this
guarantee in force, you must take the puppy to a
licensed veterinarian of your choice, within 24 hours
from the date of purchase, or delivery to you. If the
puppy is found to be of poor health, you must bring
the puppy back to the breeder immediately for a
refund. If, you wait longer than the 24 hours, and
find the puppy to be of poor health, you must still
bring, or send the puppy back for a replacement. The
replacement puppy must be of the same , and the
same value, unless other arrangements are
agreeable with both the breeder, and the purchaser.
The puppy is further guaranteed against any
communicable diseases within 10 days of the delivery
to you date, and for one (1) year against birth defects

If the puppy is returned, for any reason, at any time,
a veterinarian's report must accompany the puppy for
this guarantee to be honored, Call or text for more details.